International Propeller Club 2012 Maritine Person of the Year Award 2012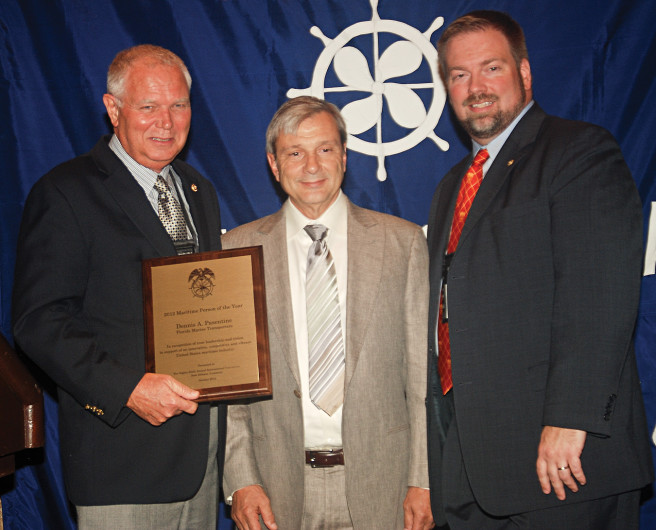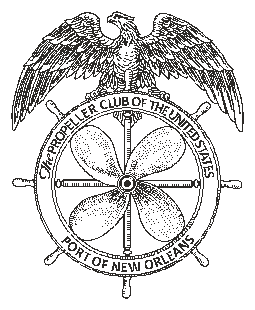 Press Release
Contact: Cathy Vienne
Executive Director
Propeller Club Port of New Orleans
(504) 779-5671
Pasentine Honored as Propeller Club's '2012 Maritime Person of the Year'
New Orleans — Florida Marine Transporters Chairman and CEO Dennis A. Pasentine received the 53rd "Maritime Person of the Year" award from the Propeller Club of the United States Port of New Orleans during its 79th annual National Maritime Day gala held Jan. 17, 2013 at the New Orleans Hilton Riverside. Propeller Club President, Childs E. Dunbar, Jr. emceed the event, which honored Pasentine – the first person in the 90-year history of the organization who received both the International Propeller Club 2012 Maritime Person of the Year Award and the Propeller Club Port of New Orleans Award in the same year.
J. Russell Flowers, CEO of J. Russell Flowers, Inc., a long-time friend and colleague, had the honor of introducing Mr. Pasentine.
"Dennis started with one boat and a dream some 13 years ago and now has 83 new river tow boats, 243 tank barges and more than 70 dry cargo barges," Flowers said. "His contribution to the maritime community is forever continuing and his vision only continues to grow."
Pasentine dedicated his entire life to the maritime industry, starting work as a tankerman, bunkering ships and barges. He rose quickly through the industry and held many titles including captain, port captain and operations manager. In those capacities Pasentine developed significant safety, operations, and personnel policies, as well as overseeing the hiring and training of all crews and operational personnel.
"This early commitment to safety and personal development foreshadowed the careful manner that he would eventually run his own company – Florida Marine," Flowers said.
Florida Marine currently employs more than 800 dedicated individuals in a family setting and all three of his children, Dennis Pasentine Jr., Cynthia Pasentine Hull and Johnny Pasentine work with him.
In addition to his business success, Pasentine also fills his time supporting philanthropic events and foundations. New Orleans Saints Quarterback and dear friend of Mr. Pasentine, Drew Brees, attended as a surprise guest to convey accolades for Mr. Pasentine's charitable support, along with their personal friendship.
Brees cited numerous philanthropic endeavors with Pasentine, including Brees Dream Foundation initiatives. Those initiatives include Brees at Sea for Children's Hospital, Brees Dream Amazing Race Charity Event, Quarterback Club Charity Events, Brees Super Service Challenge, and London Experience for Young Men – who serve third-world countries in missionary work.
In addition, Brees cited Pasentine's founding of "Friends of the Front Line," a non-profit foundation assisting firefighters after Hurricane Katrina and his support of the JK Living Foundation, Habitat for Humanity, Smile Train and the Jonathan Vilma Foundation.
Pasentine's civic memberships also include the St. Tammany West Chamber of Commerce, East Jefferson Chamber of Commerce, St. Tammany Home Builders Association; North Shore Business Council and the Mandeville Policemen Foundation. He is also a member of Church of the King and a benefactor in the church's ability to build a new sanctuary.
Pasentine said he was honored to have been chosen among the accomplished past recipients of the prestigious award. He expressed heartfelt thanks to the Propeller Club membership and board for the honor and to his Florida Marine family and colleagues for attending the event.
Also in attendance was Capt. Pete Gautier, U.S. Coast Guard Sector Commander for New Orleans and Gary P. LaGrange, President and CEO for the Port of New Orleans.
The Propeller Club aggressively promotes the maritime industry through many of its programs and partnering with other similar organizations. Their goal is to educate legislators and the public as to the importance and necessity of all waterborne commerce.
Today, the International Propeller Club of the United States is an international business network dedicated to the promotion of the maritime industry, commerce and global trade. There are more than 80 Ports in maritime locations around the world, including almost 30 in foreign cities.