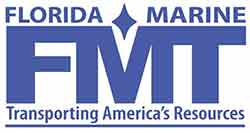 Florida Marine Transporters, under the guidance of owner Dennis A. Pasentine and his hand-picked team of marine professionals, has become the premier carrier of both liquid and dry cargo within our nation's inland river and waterway system.
Operating with a vision to build the most efficient fleet in the history of the marine transportation industry, FMT is in the midst of completing the largest continuous construction of boats and barges the United States has ever seen.
With the USCG's upcoming implementation of Subchapter M for inspected vessels, FMT's build includes fuel-efficient, triple redundant electronic shutdown systems.  These boats have been structurally reinforced to enhance their ice-breaking capabilities for winter operations.  FMT is known for keeping the Illinois Waterway open during the harshest of winter conditions.
FMT's new barge construction project has enhanced our fleet capabilities with the introduction of: new thirty thousand barrel tank barges; steam heated, internally coiled chemical barges; pressure barges; heavy duty deck barges; and open and covered hopper barges.  FMT is now at the forefront of the industry with the newest integrated fleet in the United States.  Our OPA 90 compliant tank barges, along with pressure barges designed and constructed using the latest technologies, allow us to minimize our customers' franchise risks while providing the fastest, safest, and most efficient cost-per-ton mile service available.